Clinical Psychology Training Programs
Alumni
Learn more about the talented alums of this program.
Alumni
Learn more about the talented alums of this program.
A Letter to Clinical Psychology Alumni
Dear Brown Alum:
In June, we said congratulations to our 2021-2022 graduates!  You can read about the 23 clinical psychology residents and 44 postdoctoral fellows who graduated in 2022 by visiting the Recent Graduates pages below.
Twenty-one of our clinical psychology residents this year have accepted postdoctoral fellowship positions (13 will be remaining within the Brown system) and two have accepted faculty positions elsewhere. The 2022-2023 internship class will start on July 1 and postdoctoral fellows have been coming in throughout the summer.
We have many new initiatives relating to Diversity, Equity, Inclusion and Antiracism.  If you are interested in reading more check out the information on our new website here: https://psych.med.brown.edu/diversity-inclusion-equity-and-anti-racism
Due to the COVID-19 pandemic, many annual Department events were held virtually.  
Akihiko (Aki) Masuda, Ph.D., Professor of Psychology, at the University of Hawai'i – Mānoa gave the Grand Rounds selected by our trainees.  His talk was entitled, "Psychological Flexibility: Building a Pragmatic Model and Method of Intentional Change." After the presentation, Dr. Masuda met virtually with the trainees to discuss research questions. 
Mind-Brain Research Day was held virtually. Lisa L. Barnes, Ph.D., Alla V. and Solomon Jesmer Professor of Gerontology and Geriatric Medicine, cognitive neuropsychologist within the Rush Alzheimer's Disease Center at Rush University Medical Center in Chicago, IL, was the keynote speaker.  Her talk was entitled, "Epidemiology of Alzheimer's Dementia and Cognitive Decline in Diverse Older Adults."
Several of our trainees won awards for their academic presentations.
Among our clinical psychology residents, two received awards, Sarah Owens, M.A., received first place for the presentation titled, "Characterizing Menstrual Cycle Influences on Social Processes, Suicidal Ideation, and Behavior in Adolescents with Past-Year Suicidal Ideation," and Madeline Benz, M.S., received second place for the presentation titled, "Complex polypharmacy among patients with Major Depressive Disorder and co-occurring Substance Use Disorders in a psychiatric hospital setting: Prevalence and risk factors."
In the postdoc group, Jenna Blujus, Ph.D., received first place for the presentation titled, "Posterior hippocampal redundancy is smaller among nondemented older adults with beta-amyloid deposition" and second place went to both Arryn Guy, Ph.D., for the presentation titled, "Transgender and gender diverse adults' reflections on alcohol counseling and recommendations for providers" and Jennifer Warnick, Ph.D., for the presentation titled, "Formative development of a weight management program for adolescents with comorbid type 1 diabetes mellitus and overweight/obesity."
In the Diversity Research category, first place was awarded to Emily M. May, Ph.D., for the presentation titled, "Reciprocal Links Between Marijuana Use and School Adjustment in Black and White Rural Youth" and second place was awarded to Jennifer Poon, Ph.D., for the presentation titled, "Lifetime and Daily Weight Stigma among Higher Weight Sexual Minority Women: Links to Daily Weight-based Concerns, Avoidance, and Negative Affect." 
The Clinical Psychology Training Programs at Brown has a Facebook account to help current trainees and alumni stay connected.  We are proud to say that we already have added 400+ members to the group and encourage alumni to join!
As always, we are interested in hearing from you so please visit: www.brown.edu/go/clinical-psychology-training.  Update your contact information on the Alumni Directory via reply email, Brett_Requintina@Brown.edu and/or leave us a message at 401-444-1938. 
Best wishes!
Elizabeth McQuaid, PhD, ABPP
Director, Division of Clinical Psychology
Clinical Psychology Internship Graduates 2022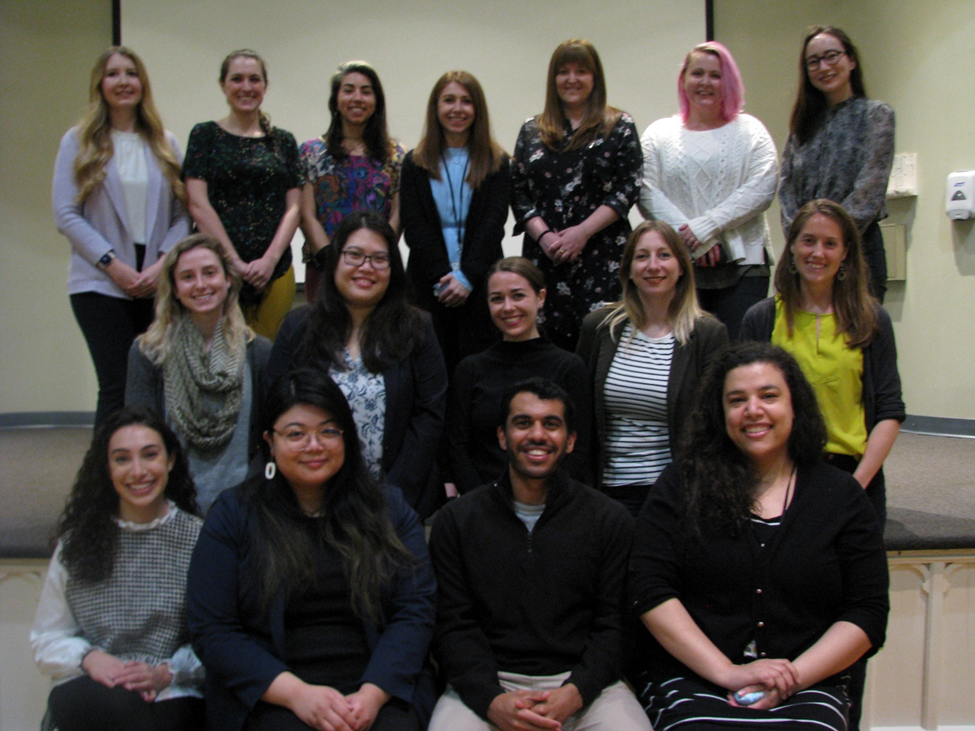 Front Row (Left to Right): Lauren Haliczer, Mariel Bello, Abel Mathew, Lauren Fox
2nd Row (Left to Right): Madeline Benz, Shereen Khoo, Ariana Albanese, Jessica Zakrzewski, Natalie Fenn
3rd Row (Left to Right): Laura Long, Sarah Owens, Alyssa Gatto, Brianna Altman, Allison Stumper, Patricia Goodhines, Andrea Wycoff
Not Pictured: Erica Ahlich, Shayna Cheek, Cara Crook, Kristine Durkin, Nauder Namaky, Katherine Tezanos, and Anna Yeo
View a report on Research Accomplishments from this year's class
Postdoctoral Fellowship Graduates 2022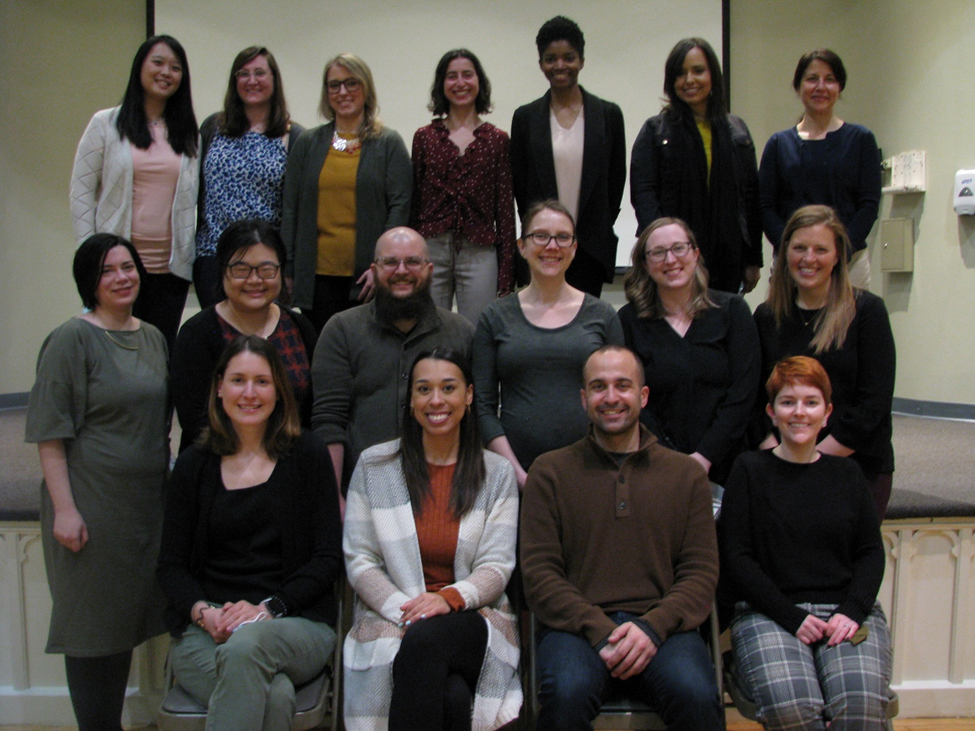 Front Row (Left to Right): Zoe Mushkat, Miyah Grant, Antonio Petruzzella, Arryn Guy 
2nd Row (Left to Right):  Holly Levin-Aspenson, Nancy Jao, Zachary Kunicki, Leah Schumacher, Crosby Modrowski, Katherine Darling 
3rd Row (Left to Right): Patricia Wong, Emily Hallowell, Emma Gosselin, Hannah Frank, Amy Egbert, Gisela Jimenez-Colon, Mary Kathryn Cancilliere 
Not pictured: Simone Arent, Corinne Bart, Jenna Blujus, Shaquanna Brown, Victor Buitron, Marie Camerota, Sucheta Chakravarty, Christina D'Angelo, Rachel Depner, Kelley Durham, Charles Gaudet, Jacqueline Hayes, Rachel Herman, Erik Hood, Lindsay Huffhines, Deanna Kaplan, Bryana Killion, Lynne Klasko-Foster, Katherine Lenger, Emily Maher, Caroline Martin, Maureen McDonnell, Deirdre O'Shea, Roman Palitsky, and Aileen Peters