Clinical Psychology Training Programs
Alumni
Learn more about the talented alums of this program.
Alumni
Learn more about the talented alums of this program.
A Letter to Clinical Psychology Alumni
Dear Brown Alum:
Dear Brown Alum:
In June, we said congratulations to our 2022-2023 graduates!  You can read about the 24 clinical psychology residents and 26 postdoctoral fellows who graduated in 2023 by visiting the Recent Graduates pages below.
Twenty-two of our clinical psychology residents this year have accepted postdoctoral fellowship positions (nine will be remaining within the Brown system) and two have accepted faculty positions elsewhere. The 2023-2024 internship class will start on July 1 and postdoctoral fellows have been coming in throughout the summer.
We have many new initiatives relating to Diversity, Equity, Inclusion and Antiracism. If you are interested in reading more check out the information on our new website here: https://psych.med.brown.edu/diversity-inclusion-equity-and-anti-racism
Riana Elyse Anderson, PhD, LCP, Residential Fellow at Stanford University, Center for Advanced Study in the Behavioral and Social Sciences gave the Grand Rounds selected by our trainees.  The talk was entitled, "Pivoting: Responding to the Mental Health Needs of Youth of Color with Technology." After the presentation, Dr. Anderson met virtually with the trainees to discuss research questions and talk about her career path. 
Mind-Brain Research Day was held in-person this year! Emery N. Brown, MD, Ph.D., Warren M. Zapol Professor of Anaesthesia at Harvard Medical School; anesthesiologist at Massachusetts General Hospital; and the Edward Hood Taplin Professor of Medical Engineering and Computational Neuroscience at MIT, was the keynote speaker.  The talk was entitled, "Deciphering the Dynamics of the Unconscious Brain Under General Anesthesia."
Several of our trainees won awards for their academic presentations.
Among our clinical psychology residents, two received awards, Jessica Powers, M.S. received first place for the presentation titled, "Use and Co-Use of Cannabis and Nicotine Before, During, and After Pregnancy: A Longitudinal Analysis of Waves 1-5 of the Population Assessment of Tobacco and Health (PATH) Study," and Katlyn Garr, M.A., received second place for the presentation titled, "Family and Child Response to Asthma Symptoms and Associations with Weight and Sleep Outcomes in Urban Children with Persistent Asthma."
In the postdoc group, Madeline Benz, Ph.D., received first place for the presentation titled, "Intentionality and characteristics of emergency department patients with a history of suicide attempt via medication overdose" and second place went to Kelli Sullivan, Ph.D., for the presentation titled, "The Effects of Medication Adherence Feedback on Older Adults with Mild Cognitive Impairment: A Mixed Methods Study."
In the Diversity Research category, second place was awarded to Shari Brightly-Brown, M.A., for the presentation titled, "Resilience to Stressful Life Events in Middle Aged and Older African Americans."
The Clinical Psychology Training Programs at Brown has a Facebook account to help current trainees and alumni stay connected.  We are proud to say that we already have added 400+ members to the group and encourage alumni to join!
As always, we are interested in hearing from you so please visit: www.brown.edu/go/clinical-psychology-training.  Update your contact information on the Alumni Directory via reply email, Brett_Requintina@Brown.edu and/or leave us a message at 401-444-1938. 
Best wishes!
Beth
Elizabeth McQuaid, PhD, ABPP
Director, Division of Clinical Psychology
Clinical Psychology Internship Graduates 2023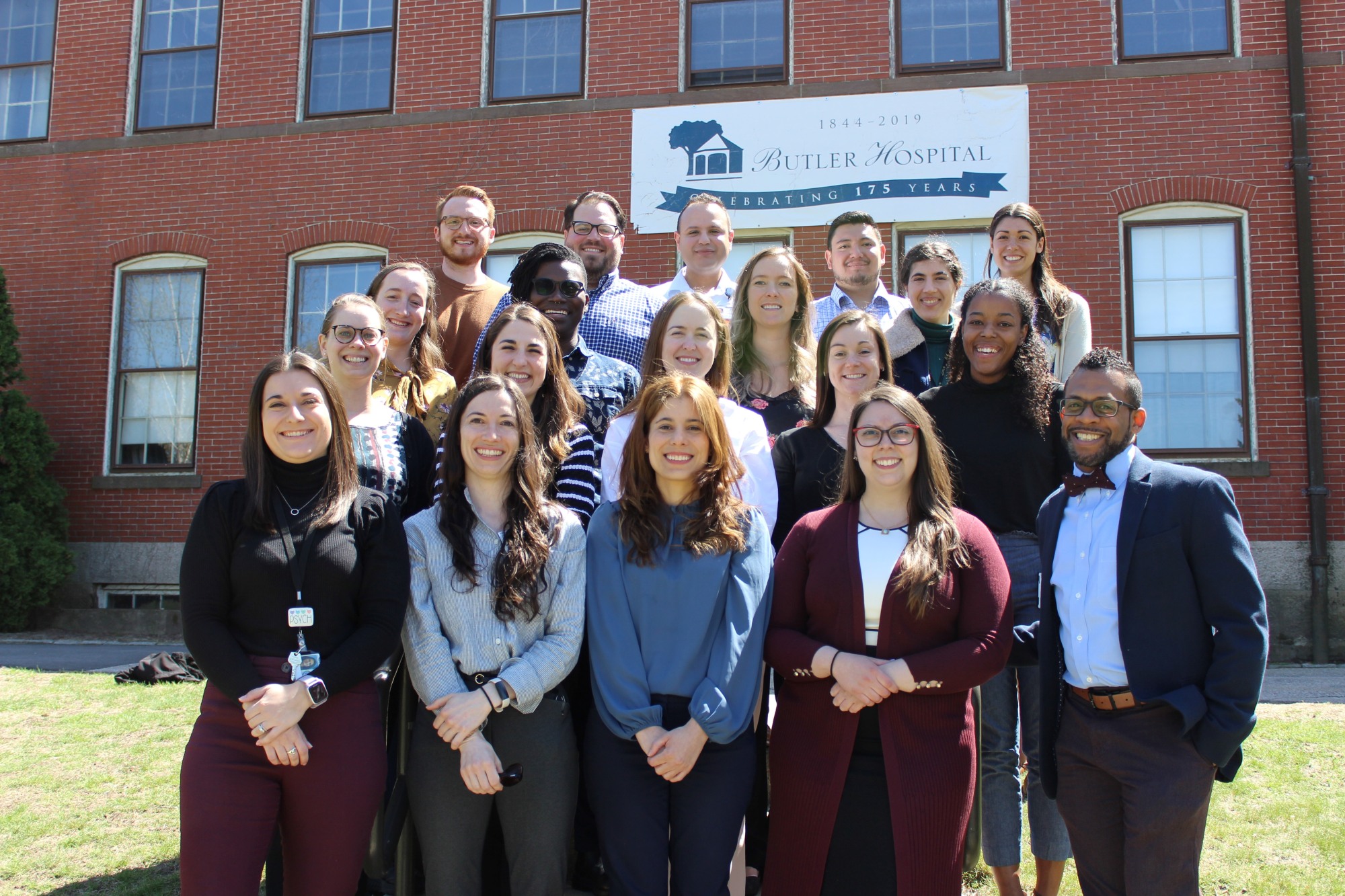 Front Row (Left to Right):  Jessica Powers, Gemma Wallace, Linda Guzman, Kayla Sall, Anthony Hitch
2nd Row (Left to Right):  Natalie Keirns, Ana Rabasco, Lesley Norris, Catherine Dion, Erin Ferguson
3rd Row (Left to Right):  Sara Nolin, Shari Brightly-Brown, Roselyn Peterson, Alicia Fenley
4th Row (Left to Right): Samuel Acuff, Daniel Mackin, Daniel Sullivan, Miguel Nunez, Stefanie Sequeira
Missing:  Alaa Alhomaizi, Erick Fedorenko, Katlyn Garr, Sin-Ying Lin, Nicole Ruppe
View a report on Research Accomplishments from this year's class!
Postdoctoral Fellowship Graduates 2023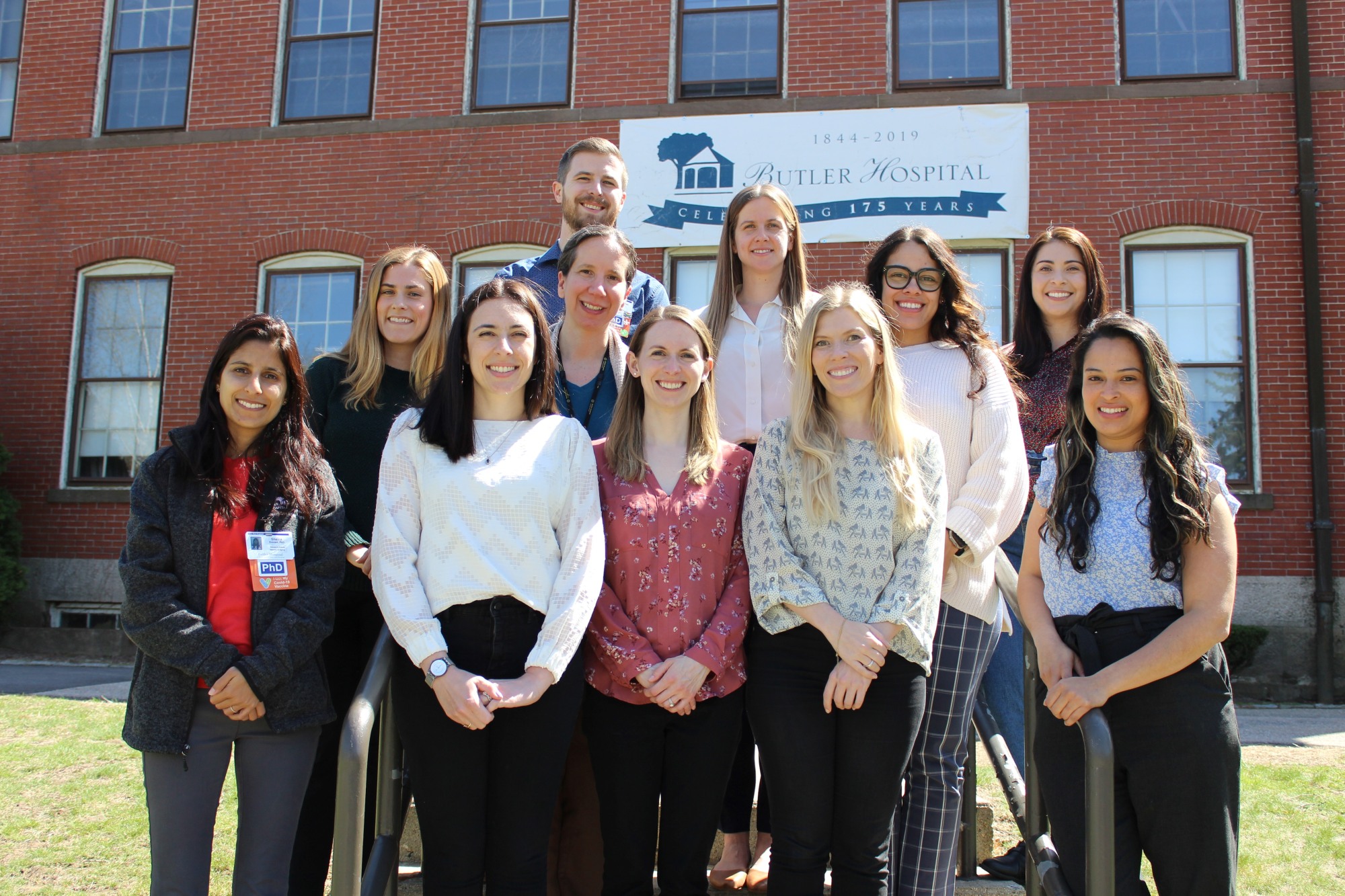 Front Row (Left to Right):  Sheina Emrani, Laura Fischer, Kelli Sullivan, Julia Paulson, Natalia Villa Hernandez
2nd Row (Left to Right):  Kimberly Chapman, Maria Stacy, Bianka Charity-Parker
3rd Row (Left to Right):  Christopher Hughes, Teresa Daniels, Darlynn Rojo-Wissar
Missing:  Maggie Allen, Micheline Anderson, Prachi Bhuptani, Tommy Chou, Alyssa De Vito, Yohansa Fernandez, Hannah Herc, Samuel Highland, Jessica Janze, Sharon Lee, Emily May, Sarah McHugh, Jennifer Poon, Olivia Preston, Rebecca Troeger